The Bureau of Meteorology has declared two major climate drivers linked to hot, dry conditions are officially underway in Australia, prompting further warnings that extreme heatwaves will hit this summer.
After months of anticipation, the bureau has confirmed the world's most consequential climate driver, the El Niño weather pattern, is active over the Pacific for the first time in eight years.
At a press conference on Tuesday afternoon, the bureau also announced the lesser known, but also significant, climate driver, known as a "positive" Indian Ocean Dipole (IOD), has also developed. 
The onset of the two major climate events means the remaining months of 2023 in Australia are likely to be hot and dry, particularly in the eastern states.
Combined with the background warming of climate change, climate scientists have warned Australia could be in for a summer of severe heatwaves.
"In Australia, heatwaves could be particularly severe in our upcoming summer, noting that there is also a predicted positive Indian Ocean Dipole, which makes southern Australia vulnerable to summer bushfires," CSIRO climate scientist Dr Wenju Cai said. 
Loading…
It the first time since 2019 that a positive phase of the Indian Ocean Dipole has been underway.
Change in the atmosphere
Eastern Pacific sea surface temperatures — one of the key indicators of El Niño — rose well above the El Niño threshold during autumn, prompting several international agencies, including the US weather authority and the World Meteorological Organization, to declare the event underway months ago.
But the Australian bureau had been waiting for the change in the ocean to trigger a stronger atmospheric response — the other key component of El Niño and an important part of how it impacts Australia — before making the call.
That criteria has now been met, meaning the bureau has confidence the event will influence Australia's weather for a prolonged period of time.
El Niño a major global event
El Niño influences the climate patterns of 60 per cent of the globe, with Australia particularly vulnerable to its impacts.
What makes an El Niño particularly impactful is its longevity. Events typically last between nine months and a year, with the effects over Australia peaking during winter and spring.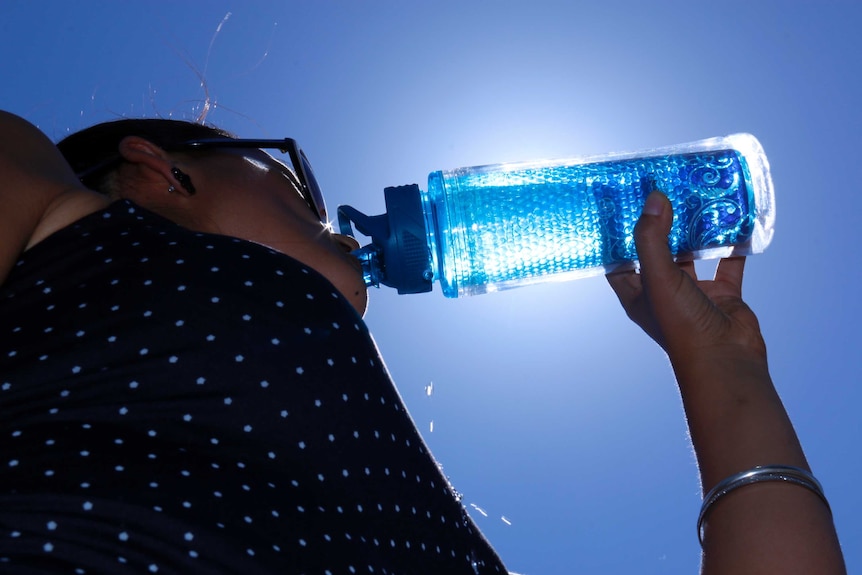 The major climate driver is characterised by a shift in warm waters and cloud from the western Pacific to the central Pacific, which leads to a reduction in rain over Australia and increased temperatures.
This means it is often associated with drought, heatwaves and bushfires.
The dry influence is particularly strong for Queensland and New South Wales.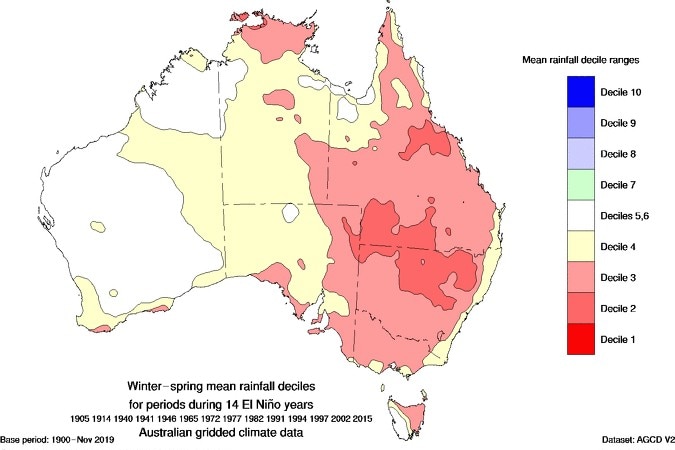 Other typical impacts of El Niño in Australia are:
Warmer-than-average temperatures across most of southern Australia, particularly in the second half of the year
Increased number of individual days of extreme heat, as well as increased frost risk under clear skies
Fewer prolonged warm spells for south coastal areas such as Adelaide and Melbourne
Reduction in snowfall, and the number of tropical cyclones 
Late onset of the monsoon in northern Australia
For other parts of the world, such as the Peru coast and the southern US, it brings the opposite effects.
However, El Niño does not always guarantee this outcome, as several factors are at play.
Nor does it mean it will be dry and warm all the time.
Additional influence of the Indian Ocean Dipole
While it's not as well known, a positive Indian Ocean Dipole (IOD) has been shown to yield a significant dry influence in Australia, particularly through the cooler months of the year. 
It was this climate driver which helped set up the extremely hot and dry conditions that fanned the devastating bushfires in 2019-20.
Loading…
A look at the rainfall over winter and spring during past events shows, unlike El Niño events which mainly impact the eastern states, the IOD's dry signal dominates South Australia, the Northern Territory, Victoria, Tasmania and parts of Western Australia.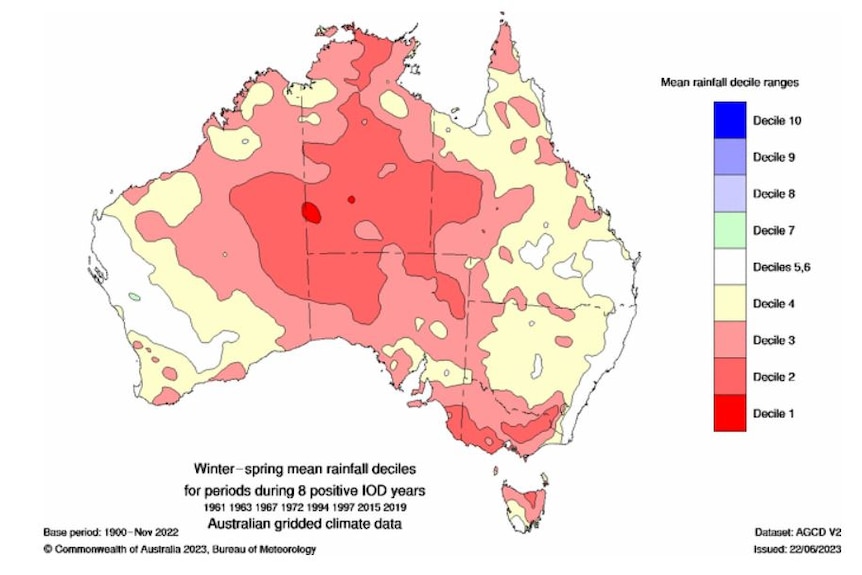 When El Niño coincides with a positive IOD, the two phenomena can reinforce their dry effects, according to the bureau.
But these 'double whammy' events do not guarantee dire outcomes. The last one in 2015 did not create widespread drought — apart from in pockets of southern Australia and eastern Queensland.
The declaration of the positive IOD comes earlier than expected, with the bureau usually needing to see it exceed values for eight weeks before declaring it underway.
But the bureau said the signal was currently so strong they were confident in making the call now.
Another Black Summer unlikely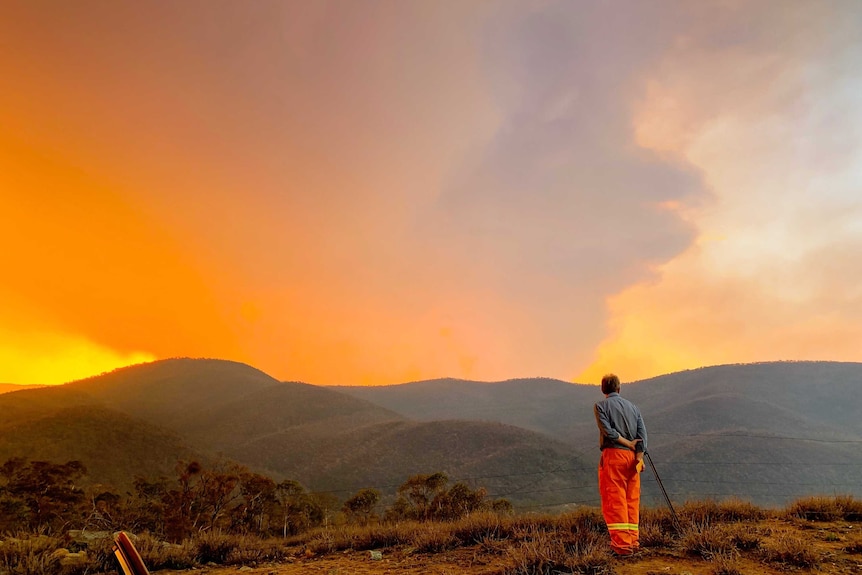 Both El Niño and the Indian Ocean Dipole are known to increase the bushfire risk in Australia, according to the bureau.
Adding to the picture this year is grass growth thanks to back-to-back years of heavy rain, according to Australasian Fire Authorities Council (AFAC) chief executive Rob Webb.
This becomes fuel for fires once it dries out.
"What we've seen over three years is large amounts of fuel over central and northern New South Wales, and into Queensland, and into the Northern Territory," he said.
"Eventually, when the climate dries out, that grass fuel tends to become like tinder and that increases the risk."
The last big bushfire season for Australia was the summer of 2019-20, which killed 33 people and destroyed more than 3,000 homes.
Mr Webb said this season was unlikely to be another Black Summer.
History shows Australia's worst fire seasons, by number of homes lost, have all followed a prolonged period of dry conditions, which has not been the case this year.
But Mr Webb said it didn't need to be a Black Summer to be dangerous.
"It only takes a short time of the 40-plus temperatures and very windy conditions to create that tinderbox that you need to drive bushfires," he said.
"But regardless of La Niña or El Niño, Australian communities in those summer months must be aware of dangerous weather conditions …and preparation is the key."
AFAC will release its summer bushfire outlook at the end of November.


#Summer #severe #heatwaves #predicted #Bureau #Meteorology #declares #Niño