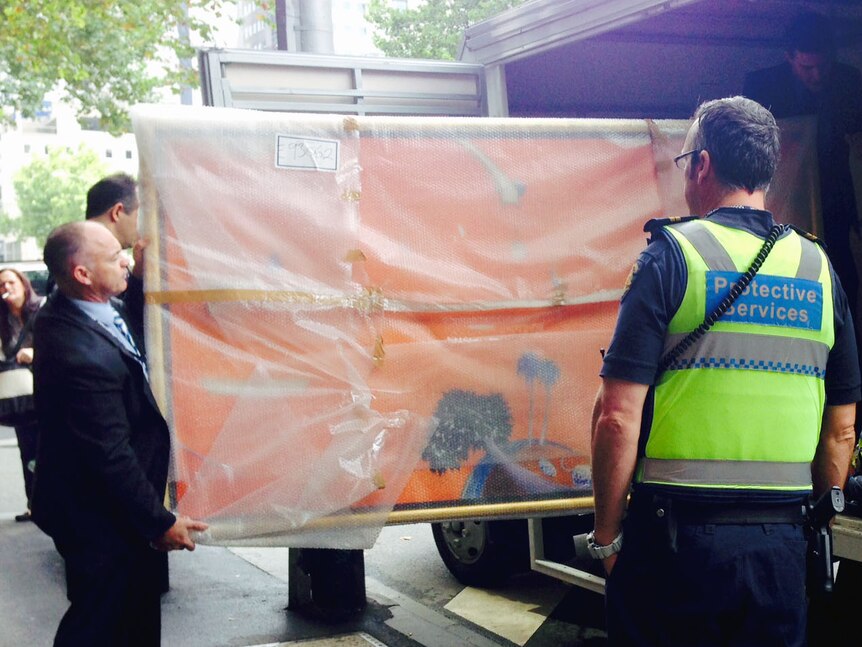 On an otherwise ordinary day at a gallery in Melbourne, a door that usually sat locked was ajar.
Intrigued, gallery assistant Jud Wimhurst peered inside.
What he discovered in the studio behind that door unleashed a controversy that rocked the Australian art world.
When gallery owner Peter Gant and art conservator Aman Siddique faced court accused of passing off fake Brett Whiteley artworks, many thought it was an open-and-shut case.
Gant and Siddique were found guilty by a jury, but a year later, an appeals court overturned their convictions.
The story of the investigation, trial and ultimately their acquittal will go down in history as one of Australia's most high-profile and enduring art mysteries.
Meet Steven Nasteski.
"I'm the quintessential art dealer … I'm a trader at heart," he says.
Born into working-class Sydney, he built his wealth buying and selling cars, property and art.
But in creating his fortune, he made one purchase so troublesome he won't utter its name.
"Ignorance, stupidity, immaturity, greed. Those four things put together … probably the worst decision I've made in my life, to be honest, when it comes to art and business," he says.
That decision was Orange Lavender Bay, a landscape supposedly painted by Brett Whiteley in 1988, four years before the artist's death from a drug overdose.
Already collector pieces, Whiteley's works became even more sought after following his death, so when Nasteski was offered the painting in late 2009 for $1.1 million, he saw opportunity.
"My capitalist-functioning brain was on," he says in ABC TV's The Whiteley Art Scandal.
"I never bought it for any other reason than just profit. I looked at it, and I thought … 'It's a decent Lavender Bay'."
Many of Whiteley's large-scale works drew inspiration from his surroundings, particularly the view of Lavender Bay from his multi-storey house on Sydney's Lower North Shore.
Convinced of its value, Nasteski purchased Orange Lavender Bay from art dealer John Playfoot, without ever seeing it firsthand.
The painting was sent to art dealer Andrew Crawford, who worked with Nasteski.
"The picture arrived at my gallery. And I looked at it for a few hours and … it gave off a very bad smell," Crawford says.
He said the picture looked "wrong" — like a combination of different parts of genuine Whiteley works put together the way "fakers" would "do" it.
He explains it like this:
Loading…
Investigating his suspicions, Crawford bundled up the million-dollar work and drove it to the home of Wendy Whiteley.
Wendy is Brett's ex-wife, former muse, and the creator of a catalogue of Whiteley's works.
Unwrapping the painting, Wendy's reaction was immediate. She described it at the time as "absolutely not right".
Crawford recalled Wendy telling him that if it was a Whiteley, he painted it on "a very bad hair day".
Given Wendy's reaction, the pair decided to investigate the piece's provenance — the history that could verify its authenticity.
They found it featured in a catalogue for a 1989 exhibition titled A Very Private Affair. The problem was, other than the catalogue, there was no record of the exhibition anywhere else.
In his probing, Crawford made another discovery, but it did nothing to ease his concerns.
"I was already questioning the picture and Gant's name came up … and that was when I thought, 'Now it's really problematic'," he says.
Loading…
Who is Peter Gant?
Gant was a well-established and well-known Melbourne-based gallery owner.
But even before the Whiteley scandal made its way to court, Gant had found himself up against the law.
In 1999, he was linked to a series of suspect Sidney Nolan pieces. He has maintained they were not forgeries and no legal action eventuated.
More than a decade later, in 2010, he was sued by artists Charles Blackman and Robert Dickinson, who took civil action against him for selling fakes of their works.
In that case, a judge ruled in favour of Blackman and Dickinson. The judge declared the works were fakes and ordered they be destroyed.
Playfoot, who facilitated the Orange Lavender Bay sale to Nasteski, has said there was a good reason he didn't reveal where the painting came from when he sold it.
"I couldn't give Gant's name at all. His name stunk," he says.
Alarm bells
Six months after the purchase, a nervous Nasteski tried to sell Orange Lavender Bay, but an inspection of the piece by the auction house raised doubts, and it was withdrawn from sale.
An examination by the University of Melbourne also prompted serious questions about the work's authenticity.
The alarm bells that were ringing became deafening for Nasteski.
"He went back to John Playfoot and said, 'I want my money back, or I'm going to the police'," said Gabriella Coslovich, a journalist who went on to cover the resulting Whiteley art fraud trial.
As he desperately chased his money, Nasteski said Playfoot was his "first phone call in the morning" and the "last phone call at night".
Loading…
Playfoot agreed to refund Nasteski but expected he would be able to recoup his own losses from Gant.
"Absolutely not," Gant says. "Wasn't anything wrong with the painting. Why should I?"
Of the situation, Playfoot recalls it as "a rotten game, the art game".
Rotten or not, if there was any hope that Nasteski would close the chapter once he got his money back, it was soon obliterated.
"It was always my motive that once the money came back in, I would go nuclear and release it immediately," he says.
"And that's exactly what happened."
Big Blue Lavender Bay
While Nasteski's Orange Lavender Bay dispute was playing out, another apparent 1988 Whiteley piece was hanging proudly in the home of investment banker and Sydney Swans chairperson Andrew Pridham.
In 2007, Pridham hired art dealer Anita Archer to help him build his collection.
When Big Blue Lavender Bay came onto the market, Archer flagged it as a good buy.
"She described it to him as a trophy painting," Coslovich says.
"That is a painting that would instantly signal Pridham's wealth and status.
"[Anita] sent a photograph of the work, and so [Pridham] bought this $2.5-million painting by looking at the photograph."
Archer told Pridham the provenance of the painting was watertight.
The seller of the painting was Peter Gant.
The full picture
Meanwhile, with refund in hand, Nasteski approached journalist Coslovich with his Orange Lavender Bay experience.
"To suggest that something may be fake is always problematic. It's legally difficult. It was also very exciting," Coslovich says.
"From there, it spiralled. We found out that there were another two, at least, paintings that were on the same delivery document that was given to Steven Nasteski."
Crawford and Nasteski began searching for the other two works on the docket – one called Big Blue Lavender Bay and the other, Lavender Bay Through The Window.
In that process, Nasteski called Wendy to tell her they believed there were two further fakes out there.
And then it clicked — Wendy knew where one of them was.
"It was just an ordinary day, and I got an invitation from a man I didn't know, but who I'd been told owned this big blue painting — a harbour, which I didn't know of," Wendy says.
She accepted the invitation, arriving at what she described as a "beautiful house" with a grand entrance.
It was the home of Andrew Pridham.
"I went to have a really good look at the Whiteley, and I was just really, really uncomfortable," Wendy says.
"I didn't say, 'Oh, you've got a fake' because I had to really, you know, go away and think. Because it's an awful thing to say to somebody who's not a crook."
Later, after reading about Nasteski's experience and allegations in the news, Pridham asked his art dealer, Archer, to investigate the background of his own painting, Big Blue Lavender Bay.
She produced a document from Gant that said the painting was purchased directly from Brett Whiteley in 1988 by an associate of his, Robert Le Tet.
But later, under oath, Le Tet swore that he never signed the document or owned the painting.
Loading…
Gant later admitted in a police interview that it was actually him who bought the painting off Whiteley.
In Sydney, suspicions around the two works were based on style and provenance. But in Melbourne, it was an unexpected discovery in a local studio that sparked doubt in other parts of the art world.
The 'smoking gun'
Gallery assistant Jud Wimhurst had arrived at Aman Siddique's studio in Melbourne one morning in 2007, expecting the day to be like any other, passing the hours making frames and attending to other odd jobs.
But off limits was a storage area in the studio.
"I was told when I started … to not go in there — that was private and to not open it. I was under the impression that it was always locked," he recalls.
"To my amazement, this day the doors were wide open, and I discovered a few paintings that were under construction that were definitely in the style of Brett Whiteley."
Grappling with what he had seen, Wimhurst reached out to Guy Morel, who also worked in the studio space, and asked if he had ever seen the paintings before.
Morel said he hadn't, but curious, he grabbed his camera and a stool, and took some photos over the wall of the now-locked space below.
"Sure enough, there was the paintings that I'd seen earlier," Wimhurst says of Morel's photos, recalling the oranges and blues in the images, which were typical of Whiteley's work.
"[Guy] decided that we should ring the police and tell them about what we found."
Morel takes a series of photographs over the course of a couple of weeks that show the creation of three paintings — a large orange and a large blue painting of Lavender Bay, and another looking through a window.
"The images … didn't just show a painting in progress, it showed the palette of paints next to the painting," says Detective Senior Constable Justin Stefanec, the lead police investigator of the eventual case.
"It showed some other Whiteley booklets with other Whiteley paintings displayed in those booklets.
"That, together with the metadata of the images contained in the camera, convinced me at that point, certainly, that we had a strong case that these were produced in 2007."
Stefanec wasn't the only one who thought the images could seal a case against Siddique and Gant for making and selling fake Whiteley artworks.
"Very rarely do you see a smoking gun," prosecutor Tom Gyorffy says.
"And we saw those paintings in preparation as effectively being a smoking gun. I've got to say, it made us excited about the case."
Loading…
But it would be years before the pair were arrested. In 2015, Gant and Siddique were committed to stand trial. Both strenuously denied the charges.
"The allegations were that Siddique had painted the paintings and that, having then created these fake Whiteley paintings, Gant, in his position as a gallery owner and vendor of art, was then able to move them in the marketplace and sell them as the real thing," recalls Siddique's defence barrister John Ribbands.
The trial began in April 2016.
The trial
The defence argument was, and has always remained, that Nasteski and Pridham's paintings were authentic, and those in the photos from Siddique's studio were copies of the originals.
Critical to the case and their argument: Creating fakes isn't a crime.
"The only thing that would be wrong is if you try to pass off the copy as the real deal," Ribbands says.
And so the challenge for the prosecution was to prove the two paintings in question, which were sitting in court as evidence, were forgeries and were those that were seen in Siddique's studio.
To do that, the prosecution called up expert witness, art conservator Professor Robyn Sloggett from the University of Melbourne.
Speaking about the trial in ABC TV's The Whiteley Art Scandal, Sloggett details differences in the style of the paintings and genuine Whiteley works.
Loading…
But artistic style isn't an exact science. The evidence was heavily questioned.
"The judge didn't really value Robyn Sloggett's evidence," journalist Coslovich says.
"It's fine to talk about in the art world, but it doesn't have any place in the criminal justice system."
From Gant's view in the dock, he said Sloggett was "talking garbage".
Loading…
Infrared images
But Sloggett and her University of Melbourne colleagues provided further information that edged closer to forensic evidence.
Using an infrared camera, Sloggett and her team had looked under the surface of the paint in Pridham's Big Blue Lavender Bay.
It revealed pencil sketches of elements in the final painting, which the prosecution argued matched the in-progress photographs that were taken at Siddique's studio.
Loading…
But, in response, the defence team presented a video of Whiteley sketching on canvas, in what they said was proof the artist had a history of doing under-drawings beneath his works.
They added that regardless of how convincing the photos might have been when compared to the infrared images, it was too speculative to assume they were of the same piece of art.
The prosecution enlisted Wendy to give evidence, given her many years observing her ex-husband's craft up close.
She declared the paintings fakes and backed the prosecution's argument that Brett never sketched his Lavender Bay pieces before painting them.
But she was challenged by the defence. Wendy and Brett had separated when the works were supposedly painted. How could she be so sure he didn't create them?
"I said, 'I don't know everything Brett did, but what I do know absolutely is what he didn't do'," Wendy later recalls about her evidence at the trial.
But Gant has remained unconvinced.
"She was married to him for a while. I don't know that that makes her an absolute authority on everything he ever painted," he said.
Prosecution case harpooned
Even with their "smoking gun" and the evidence from Wendy and Sloggett, the prosecution's case had two major holes punched in it.
The first from a former employee of Gant, who said she remembered receiving three large paintings at his gallery in 1988.
She also confirmed it was her handwriting and signature in a consignment note that confirmed the paintings' delivery.
The third painting on the delivery form, Lavender Bay Through The Window, couldn't be located before the trial but was found years later.
The second blow to the prosecution's case came from a man who testified he photographed Orange Lavender Bay and Big Blue Lavender Bay in 1989 for Gant for an exhibition that never eventuated.
"It was clear, uncontroverted, unchallenged evidence that this particular painting existed in 1988," says defence lawyer Ribband.
At trial, the prosecution did not thoroughly challenge either witness, which essentially amounted to their acceptance of the evidence as truth.
"The very essence of the prosecution case was that these paintings were created by Siddique in 2007," Ribbands says.
"Anything that showed the existence of these paintings prior to that point in time had to harpoon the prosecution case, and harpoon it, it did."
The prosecution suggested to the jury that while neither witness was deliberately lying, they must have been mistaken.
Chief Justice Michael Croucher of the Victorian Supreme Court was hearing the case and took the unusual step of inviting the jury to end the trial by returning verdicts of not guilty. But the jury was also given the option of hearing more evidence before reaching its verdict.
"I'll never forget the forewoman who'd been chosen for the jury. She only said two words to the judge: 'Moving on'," Coslovich recalls.
Gant said he was unsurprised by the jury's action.
"I think their minds were made up from day one," he says. 
After a high-profile and closely watched five-week trial, on May 12, 2016, Siddique and Gant were found guilty on all charges.
Gant was sentenced to five years in jail, with a non-parole period of two years and six months, while Siddique was sentenced to three years' jail.
Convictions overturned
Gant and Siddique were immediately released on bail while they appealed their convictions.
Adding weight to their appeal was a report from the trial judge, Chief Justice Croucher.
In essence, he said evidence the paintings existed before 2007 – that wasn't challenged by the prosecution – cast enough doubt that the pair should not have been found guilty.
The prosecution effectively acknowledged to the Victorian Court of Appeal that it did not have a strong enough case against Gant and Siddique.
"Everything was ready to go. We had the paintings in court, and then that morning the prosecutor pulled me aside and said, 'We're pulling out and not proceeding'," Detective Senior Constable Stefanec says. 
Loading…
As a result, the appeal judges quashed Gant and Siddique's convictions and both men walked free from court.
"It was just nice to be liberated," Gant says.
"I don't wake up in the morning feeling bitter and twisted about the fact that I'm not a well-revered art dealer. I really couldn't care less.
"Eventually the fuss will die out about those pictures and one day they might be re-evaluated. One day people might like them again."
Watch The Whiteley Art Scandal tonight at 8:30pm or on ABC iview.
Credits
Writer: Georgia Hitch
Graphic design: Emma Machan
Photography: Kate Ballis, Guy Morel, AAP
Video: In Films 


#Whiteley #Art #Scandal #ABC #News